ACADEMIC CONFERENCE ON OPEN GOVERNMENT 2017. JORNADAS ACADÉMICAS EN GOBIERNO ABIERTO 2017 #OGPAcademy17
Add to Calendar
20171117T0001
20171118T2359
Jornadas Académicas en Gobierno Abierto 2017. #OGPAcademy17. Academic Conference on Open Government
    Programa Defintivo / Final Program #OGPAcademy   Consulta ya el Programa Definitivo de #OGPAcademy  Check the #OGPAcademy Final Program     #OGPAcademy. REGISTRO ABIERTO PARA P...
https://acog17.dryfta.com/
Av. Pres. Figueroa Alcorta 2201, C1425CKB CABA, Argentina
Jornadas Académicas en Gobierno Abierto 2017. #OGPAcademy17. Academic Conference on Open Government
ogpacademy17@opengovresearch.net
#OGPAcademy17. Academic Conference on Open Government. Jornadas Académicas en Gobierno Abierto. Buenos Aires Argentina
---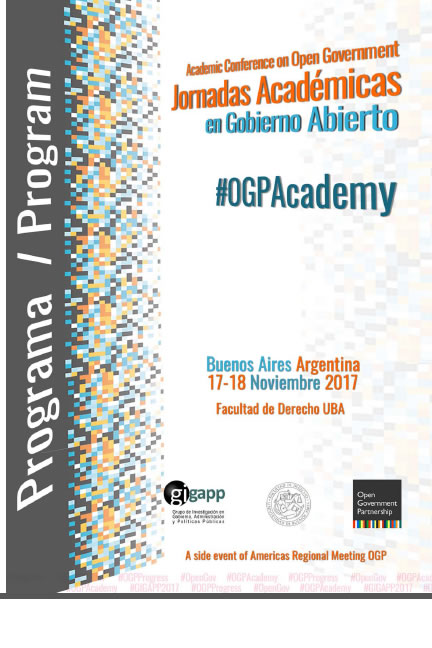 Programa Defintivo / Final Program #OGPAcademy


Consulta ya el Programa Definitivo de #OGPAcademy 
Check the #OGPAcademy Final Program
#OGPAcademy.
REGISTRO ABIERTO PARA PANELISTAS
1. OBLIGATORIO: Todos los participantes ponentes y panelistas deben registrarse en el Evento. Para hacerlo, los autores y coautores que vayan a participar presencialmente en el Evento deberán iniciar su sesión en la plataforma y proceder a su registro gratuito

Iniciar sesión y comenzar registro 


---
PARA PARTICIPANTES NO PONENTES
2. Para asistentes libres (no ponentes), ABIERTO periodo de registro gratuito  
(REGISTRO DE ASISTENTES LIBRE NO PONENTES, A PARTIR DEL 6 HASTA EL 10 DE NOVIEMBRE O LOGRAR MAXIMO AFORO) 
Crear una cuenta y registrarse en OGPAcademy
#OGPAcademy.
REGISTRATION IS OPEN FOR SPEAKERS AND PANELISTS
1. REGISTRATION: All speakers with accepted proposals must register at #OGPAcademy. Please proceed login int your session and buying a free ticket .
---
FOR ALL ATTENDEES (NON SPEAKERS)
 2. For attendees (non speakers), the registration period is NOW OPEN.
(NON SPEAKERS REGISTRATION PERIOD OPEN: 6-10 NOVEMBER. AVAILABLE UNTIL ACHIEVE VENUE FULL CAPACITY) 
Sede #OGPAcademy17
Av. Pres. Figueroa Alcorta 2201, C1425CKB CABA, Argentina
Ponentes Participantes /Speakers
Ponentes Participantes/ Speakers
Important Dates /fechas Importantes:
Call Papers (cerrado/closed)
Call for papers: June 12th - July 10 - and sign-in registration for authors - WE EXTEND THE DEADLINE TO SUBMIT PROPOSALS UNTIL JULY 24, 2017
Convocatoria de propuestas: Junio 12 – Julio 10 - incluye el registro de los autores y coautores -  /EXTENDEMOS EL PLAZO PARA ENVIAR PROPUESTAS HASTA EL 24 DE JULIO 2017
---
Propuestas aceptadas/Accepted proposals (cerrado/closed)
Full list of approved proposals: August, 22 (link here)
Publicación de propuestas aceptadas: Agosto 22 (enlace aquí)

---
Paper delivery/envio documentos (propuestas aceptadas/ accepted proposals)
Deadline for extended work October 27
Plazo para el envío de documentos 27 de Octubre
---
Programa Sesiones /Schedule (preliminar)
Publicación del Programa de sesiones (preliminar) 23 Octubre 2017
Publication of Schedule (preliminary) 23 th, October, 2017
---
Registro /Registration (debes iniciar sesión antes/you must sign in first)
Registration period: Octuber, 23 - 27 November (SPEAKERS) 6-10 November, (non speakers attendees)
Periodo de registro: Octubre, 23 - 27 Noviembre (SOLO AUTORES PONENTES)  6- 10 Noviembre  (participantes no ponentes)
---
Registration Deadline November 10 (for non authors)
Fecha límite de inscripción 10 de Noviembre (para no autores)
---
Full program and participant listing November 12
Programa completo y listado participantes 12 de Noviembre

---
#OGPAcademy17 Buenos Aires
Main #OGPAcademy17 event November 17-18 2017, Buenos Aires
Celebración Jornadas Académicas #OGPAcademy17: 17-18 Noviembre 2017, Buenos Aires
A Side Event /Evento Previo OGP Regional Meeting Buenos Aires 2017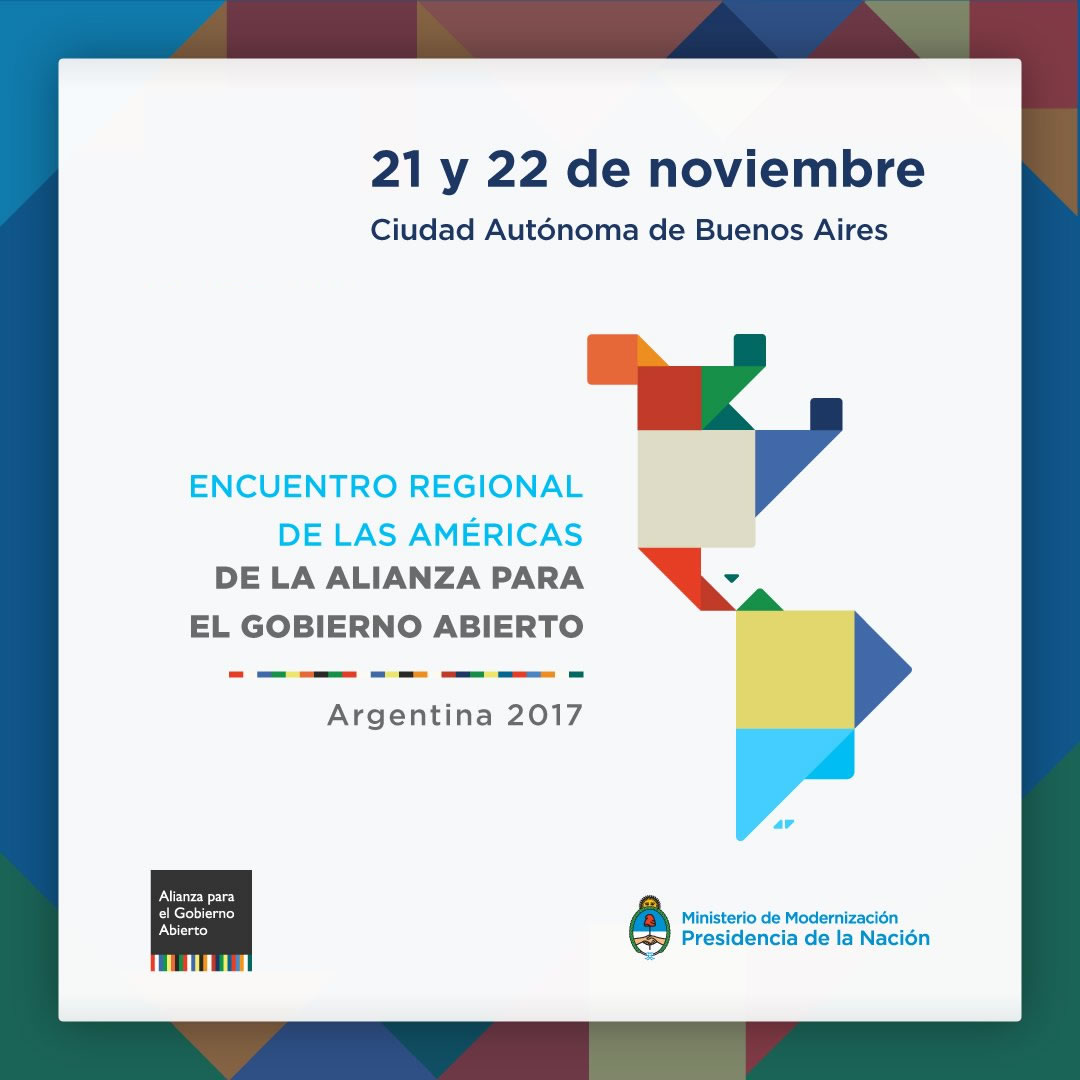 Este Congreso Académico se organiza como un evento previo al Encuentro Regional de las Américas de la Alianza para el Gobierno Abierto 2017. Buenos Aires Argentina. 
This Academic Conference is organized as an prior ovent to the Americas Regional Meeting Open Government Partnership 2017. Buenos Aires Argentina
---