#OGPAcademy17. Academic Conference on Open Government. Jornadas Académicas en Gobierno Abierto. Buenos Aires Argentina
---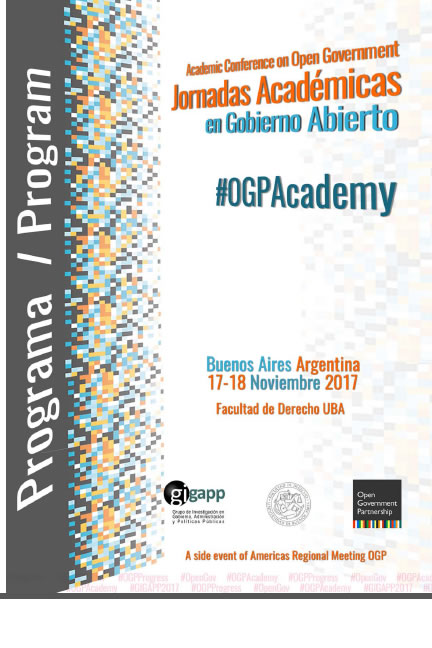 Programa Defintivo / Final Program #OGPAcademy


Consulta ya el Programa Definitivo de #OGPAcademy 
Check the #OGPAcademy Final Program
#OGPAcademy.
REGISTRO ABIERTO PARA PANELISTAS
1. OBLIGATORIO: Todos los participantes ponentes y panelistas deben registrarse en el Evento. Para hacerlo, los autores y coautores que vayan a participar presencialmente en el Evento deberán iniciar su sesión en la plataforma y proceder a su registro gratuito

Iniciar sesión y comenzar registro 


---
PARA PARTICIPANTES NO PONENTES
2. Para asistentes libres (no ponentes), ABIERTO periodo de registro gratuito  
(REGISTRO DE ASISTENTES LIBRE NO PONENTES, A PARTIR DEL 6 HASTA EL 10 DE NOVIEMBRE O LOGRAR MAXIMO AFORO) 
Crear una cuenta y registrarse en OGPAcademy
#OGPAcademy.
REGISTRATION IS OPEN FOR SPEAKERS AND PANELISTS
1. REGISTRATION: All speakers with accepted proposals must register at #OGPAcademy. Please proceed login int your session and buying a free ticket .
---
FOR ALL ATTENDEES (NON SPEAKERS)
 2. For attendees (non speakers), the registration period is NOW OPEN.
(NON SPEAKERS REGISTRATION PERIOD OPEN: 6-10 NOVEMBER. AVAILABLE UNTIL ACHIEVE VENUE FULL CAPACITY) 
Important Dates /fechas Importantes:
Call Papers (cerrado/closed)
Call for papers: June 12th - July 10 - and sign-in registration for authors - WE EXTEND THE DEADLINE TO SUBMIT PROPOSALS UNTIL JULY 24, 2017
Convocatoria de propuestas: Junio 12 – Julio 10 - incluye el registro de los autores y coautores -  /EXTENDEMOS EL PLAZO PARA ENVIAR PROPUESTAS HASTA EL 24 DE JULIO 2017
---
Propuestas aceptadas/Accepted proposals (cerrado/closed)
Full list of approved proposals: August, 22 (link here)
Publicación de propuestas aceptadas: Agosto 22 (enlace aquí)

---
Paper delivery/envio documentos (propuestas aceptadas/ accepted proposals)
Deadline for extended work October 27
Plazo para el envío de documentos 27 de Octubre
---
Programa Sesiones /Schedule (preliminar)
Publicación del Programa de sesiones (preliminar) 23 Octubre 2017
Publication of Schedule (preliminary) 23 th, October, 2017
---
Registro /Registration (debes iniciar sesión antes/you must sign in first)
Registration period: Octuber, 23 - 27 November (SPEAKERS) 6-10 November, (non speakers attendees)
Periodo de registro: Octubre, 23 - 27 Noviembre (SOLO AUTORES PONENTES)  6- 10 Noviembre  (participantes no ponentes)
---
Registration Deadline November 10 (for non authors)
Fecha límite de inscripción 10 de Noviembre (para no autores)
---
Full program and participant listing November 12
Programa completo y listado participantes 12 de Noviembre

---
#OGPAcademy17 Buenos Aires
Main #OGPAcademy17 event November 17-18 2017, Buenos Aires
Celebración Jornadas Académicas #OGPAcademy17: 17-18 Noviembre 2017, Buenos Aires